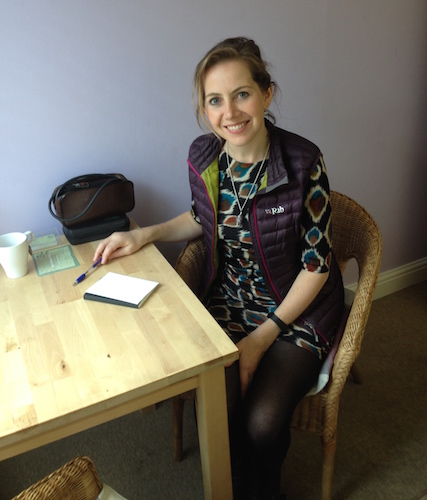 Herbal Medicine, Nutrition & Wellbeing Consultations in Otley and Holmfirth, West Yorkshire

I believe in empowering my clients to realise their optimum health and wellbeing. Over the past 15 years I have been helping my clients to do this by offering one to one consultations in which we explore all aspects of the issue at hand and together create a treatment plan which will encompass dietary and wellbeing advice as well as herbal medicines and supplements to suit your needs.

What to expect Complete with nutritional and lifestyle advice, the modern herbalist can treat most conditions you might take to your doctor. She can also be of benefit during convalescence and as support to orthodox treatment. With over 15 years experience, my own approach has also successfully helped many people make positive lifestyle changes whether that's to sort your diet out, detox and increase vitality, release inner tension and de-stress, lose weight or just keep you on the road to optimum health. All new clients are sent a health questionnaire to complete before the first consultation.
Your first consultation usually takes 90 minutes (including any dispensing time) during which a detailed history will be taken, building up a picture of how previous illness, diet and lifestyle may be affecting your present health. You can also expect your blood pressure to be taken and any other physical examination as appropriate. Please bring along any prescribed medication or supplements you are currently taking for full consideration.
A herbal remedy, tailored to your individual needs, will then be prepared and dietary and general wellbeing advice given for you to consider. An optimum complementary list of vitamins and supplements will also be recommended if necessary of you as well as reviewing any products you are currently taking. The prescription is usually in the form of a herbal tincture made up of 4-5 different herbs based in alcohol which is ready to take in water at the dose prescribed. An initial 200mls of tincture is included in the cost of your first consultation and generally lasts 2-3 weeks. A further 200 mls can usually be posted out if the remedy is suiting the client. Sometimes herbal teas, mouthwashes and topical creams may also be given.
Future consultations either by phone, skype or in clinic will then be arranged 3-6 weeks later depending on your needs. The frequency of consultations very much  varies but they are generally recommended at least at monthly intervals for the first 3 months and then as needed. In longterm, established cases, a phone review every 3 months and an annual clinic consultation is often enough. Many of my clients, however, prefer to come every 6-8 weeks for continued support and/or to work deeper on other aspects of their health and especially help with their diet, energy levels and/or Yoga practice.

A typical course of herbal treatment may take from 6 weeks to 9 months or more depending on the individual case. A significant improvement should be experienced within 3 months and more immediate symptomatic relief can be expected.
If there are any changes to your health that need addressing or at any time you feel your prescription needs altering in any way, you will need to make an appointment either in person or over the phone to discuss further. I will always do my best to meet my patients' needs whilst providing the best herbal treatment possible and adhering to the Code of Practice of the National Institute of Medical Herbalists www.nimh.org.


Where and when Please Note: All consultations are currently online or by phone.

To make an appointment or to find out if I can be of help or to re-order herbal prescriptions, please call me on 07775 920079.