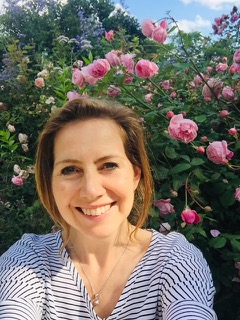 Hi. My name is Bel Charlesworth and I'm passionate about empowering others through the power of Nature. I've been working as a medical herbalist since 2003 and through my private practice offer my clients a professional and natural approach to optimum health using herbal medicines, dietary and wellbeing advice. As a Member of the National Institute of Medical Herbalists, my training has involved the study of the medical sciences, diagnostic skills and modern pharmacy in addition to the therapeutic use of medicinal plants and nutrition. As a hands-on herbalist, I'm also skilled in making medicines as well as herbal oils, creams and other preparations. All this I feel has well-equipped me to run the workshops and herb walks I am so passionate about and I hope you will be able to join me on one of them. Over the years I have also undertaken consultancy work for various companies in need of a herbal expert ranging from developing and facilitating herbal and wellbeing workshops and herb walks to advising on herbal products.
All the products and packaging in my online shop are sourced from ethical suppliers who share the same commitment to our planet and its inhabitants as I do. Ingredients are fully tested by my herbal suppliers and are organic or sensitively wild harvested as much as possible. The tinctures, creams and oils are manufactured in the UK by my herb suppliers and then dispensed at my new premises in Holmfirth. My herbal teas are hand-blended with love here in Yorkshire to my own tried and tested recipes. In fact I only dispense and make up products when I'm in a positive state of mind… thankfully this is most of the time... so that I can pack as much love as possible into my Yorkshire Herbalist products… this kind of thing is important to me x
I am also a Yoga therapist (with a 2 year diploma accredited by the British Council of Yoga Therapy) and Meditation teacher at the Dent Meditation Centre. I have completed 200RYT teacher training in both Dru Yoga and Vinyasa flow with further training in Yin Yoga, Backcare and Teen Yoga. I am also a qualified massage therapist, with further training in Ayurvedic treatments.
Please find further info about me below for those of you who are interested. I hope you enjoy exploring the site and please get in touch if you'd like to make an appointment. Warm wishes, Bel x
NB The code of practice of my professional body prevents me from offering email advice on private medical conditions without a prior face to face consultation. If you are considering making an appointment, it's usually better to phone me rather than sending me a lengthy email. Alternatively, to find a herbalist near you please visit www.nimh.org.uk. Thank you x
More I completed a 3 year BSc degree in Herbal Medicine at the University of Central Lancashire in 2003 and have been lucky enough to earn my living as a herbalist ever since. I set up and ran the natural health store and complementary therapy centre, The Otley Apothecary, from 2005 to 2014 and I will always be grateful for all the wonderful people I met in this time, staff, customers and suppliers alike and all the knowledge I gained from this experience. However after 9 years, I realised I wanted the freedom to focus on my herbal practice, workshops and consultation work, and also to further involve Dru Yoga in my work. Now under new ownership, the health store continues as Ivy House Botanicals.
As a herbalist, I'm passionate about connecting others to the innate Power of Nature, a life full of natural health and the fabulous world of herbs and herbal medicine. I also have a special interest in Nutrition and am keen to help others follow a more wholesome, nourishing diet for themselves, their family and their planet.
I believe it's essential that we all take responsibility for our own health and the way we live and I aim to empower people to do this both in my practice and through my workshops and the Yorkshire Herbalist website. My herb walks are also a popular way to learn more about the medicinal plants found all around us.
Aside from my work, potion-making and spending as much time as possible out in Nature, I also enjoy time with family and friends, Yoga, books, music and dancing, sunshine, campfires, wild swimming, and have recently discovered kayaking x